Information!
This year my sale is going towards paying off my laptop and helping to afford a new Wacom tablet on top of it. DX (My old but awesome Intuos can't work with my new laptop. I swear I've pulled out hair trying to get it to work, but Wacom hates it's old serial users. DX I swear by my tablet, so this really sucks.)
Payment
: My top choice is Paypal for payment. I can also take international money orders. (Well, unless you're in Canada, then a normal one would be fine. XD lol) Or possibly very well hidden cash. Checks and stuff get... complicated. D:
I'm willing to hold things, and will note when they're sold in red. And you can just comment here (those with no account can still comment using anon!), or pm me, email (Jennifer or nalina at winddrifter), AIM (makainosasayaki), take your pick. XD
Shipping
for a couple pieces of jewelry is usually about $3 sent in a padded envelope via letter post (and takes about a week, as proven by a package I sent recently which arrived in California exactly a week later. Somewhere closer to Ontario will obviously should, in theory, take less time. XD).
With Christmas drawing so close though, things might need a different method. Canada Post offers Express and Expedited but that ranges from $12-$20 (ouuuuuch) Light package (luckily aluminium is light XD) might be best bet hovering around $5, and says in as little as 4 days. (As little, huh?) Canada Post enjoys ripping us off these days, ugh. I'm not sure what UPS pricing is like right now, but... Chat me up anyways, and we'll figure something out! Or else, a after Christmas delivery might be sadly what will happen now, but who knows. I believe in true blue miracles. :Db
Importantish Note:
: When I'm sending from Canada to the US there is a
chance
of customs trying to charge some kinda duty. It hasn't happened yet to anything I've mailed before, however. None-the-less, mentioning it. o/
Concerning jewelry:
If you aren't sure if something will fit, check the length of something you wear that does fit how you like it, and let me know. I'll check length and can easily adjust most of these. My earring hooks are generally silver plate or what I sadly suspect might be a nickel plating. Also gold is brass and and copper is... I think copper plate. BUT I have one pair (currently, I can possibly get more) of actual sterling hooks I can switch on, but will bring price of them up to $10 (from $6).
About my metals:
I try to use as little nickel as I can, but unfortunately it is difficult to avoid sometimes when it comes to findings. If you have a metal allergy, let me know! Because I'll see what I can do to eliminate all nickel I can!
Bright aluminum is not normal aluminum. It has next to no dirty rub off from oxidization. They will go dingy however, but soap and water do wonders. The anodized (coloured) ones coating is pretty tough, but it can wear down a little, but takes constant wear from my experience. It can be scratched with like pliers, but yeah. Mostly it's pretty tough. The stainless steel is heavier than Al (obviously) and does contain I think it was 6% Nickel. Not much, however. Titanium is pretty well allergenic but does have a small percent of aluminum in it. Copper is, well, copper. It will lose it's shine, and if you wear it tight on your wrist and sweat, it will turn green. (But I have no prob with my copper bracelet that I wear lose) A small amount of, believe it or not, ketchup will shine it right up. :D
Pretty much all my rings and wire (but for copper) come from
http://www.theringlord.com
and I can get other kinds of metal rings at request (though wouldn't make a Christmas delivery at this point, alas) And my rings are mostly machine cut from him. There's a slight notch in the rings, but barely noticeable. Next purchase I make I plan to switch to getting saw cut, and even buying my own jeweler's saw. Excitement! *A*
If you have ANY questions, what so ever, please ask! Anyhoo, blahblah ON TO THE PICTURES:
Chainmail
Bracelets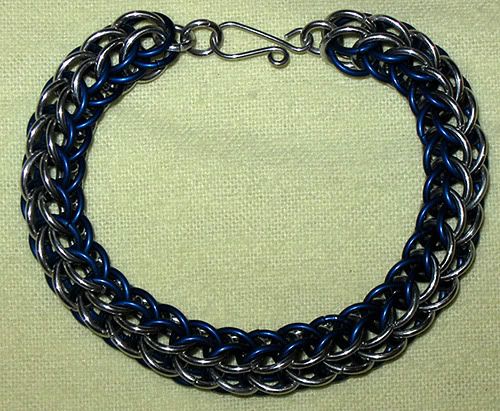 Dark blue anodized aluminum and silver bright aluminum in a full persian pattern ~ $12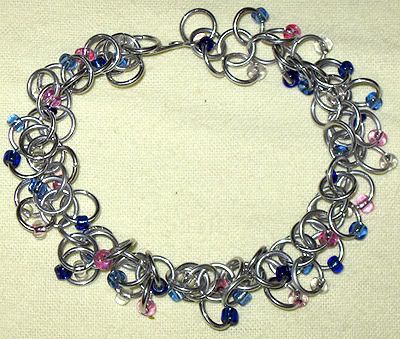 Shaggy Loops weave in bright aluminum rings [More images: How it looks on. | On Blue BG] ~ $12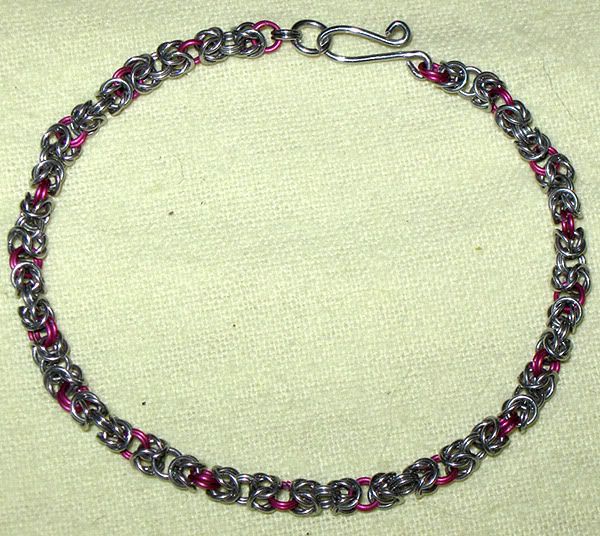 Tiny bright alumunum rings in a small byzantine weave with pink anodized rings for a bit of colour [More images: How it looks on. | On Blue Bg] ~ $15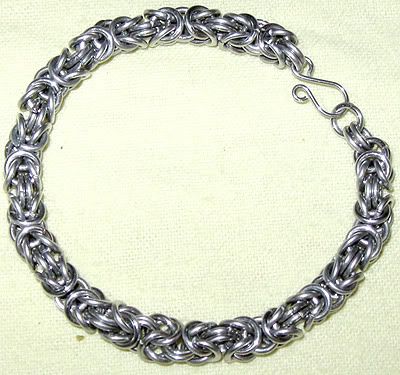 Chunky Byzantine with aluminum rings ~ $12




Smaller Byzantine (handmade bright aluminum rings) ~ $14




Dragon Tail (I think was the name of the weave...) Silver bright aluminum rings with anodized turquise ~ $8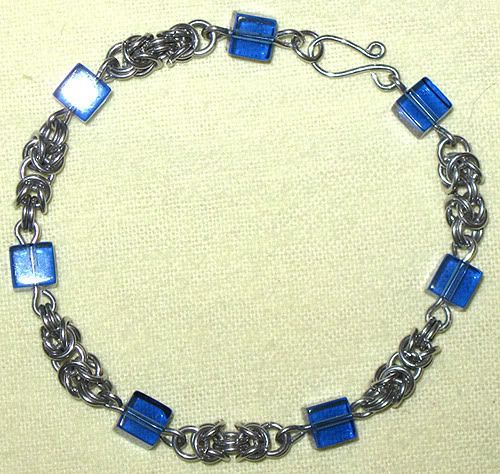 Byz and blue square beads (handmade bright aluminum rings) ~ $12




4 in 1 Half Persian from all bright aluminum rings~ $12




Roundmail Black stainless with trapped purple anodized aluminum rings ~ $15.00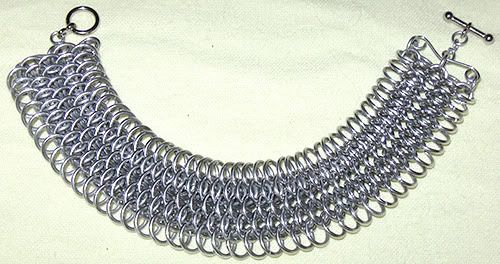 Semi-dragonscale Bracelet with all bright aluminum rings [More images: How it looks on. | Second Pic]~ $20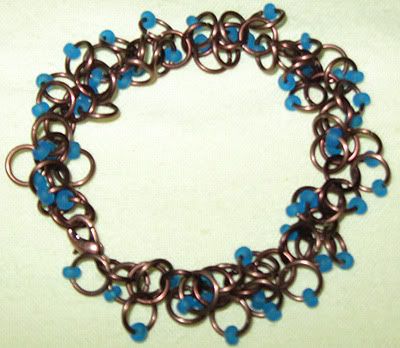 Copper coloured anodized aluminum shaggy loops bracelet [Other images: How it looks on. | On the mousepad ~ $12




Black nickel plated rings with pearls [Other images: Before resized bit smaller | On the mousepad with earrings] ~ $10

Necklaces




Shaggy Loops Necklace made with bright aluminum rings ~ $20 Sold!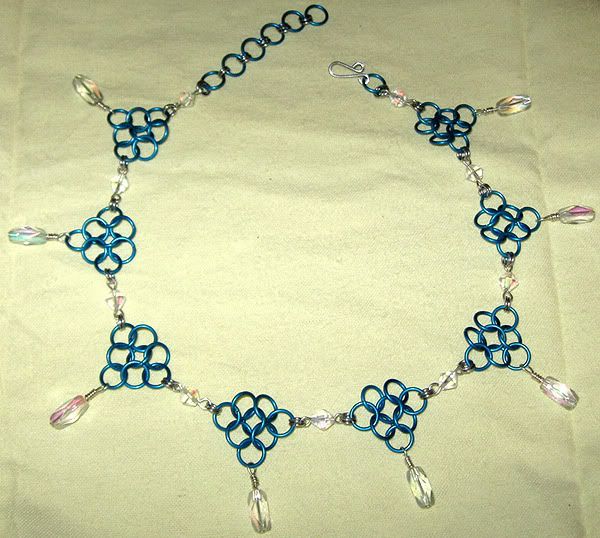 'Ice Princess' necklace made with anodized turquise rings [Other images: On Blue BG] ~ $25




Arrow Points necklace made with bright aluminum rings [Other images: On Blue BG] ~ $30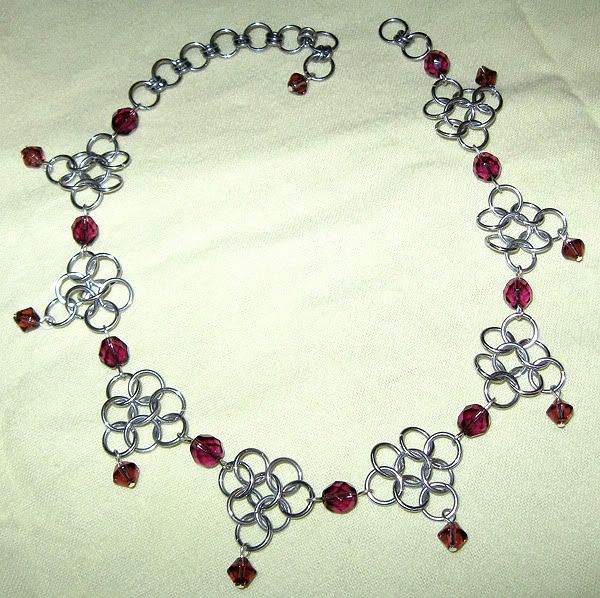 Amythyst coloured beads with aluminum rings [Other images: On the mousepad] ~! ~ $25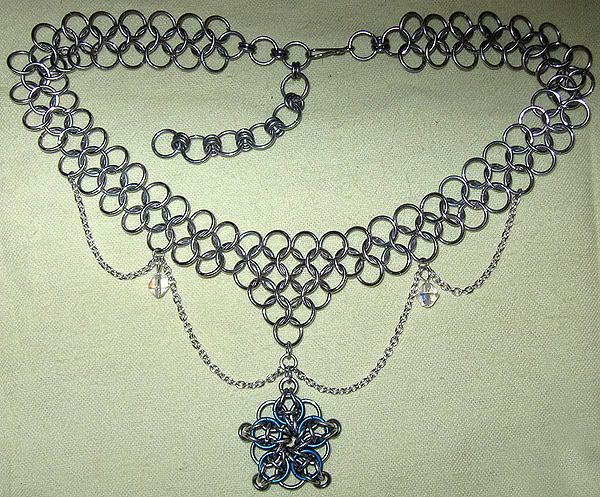 Snowflake Queen... or something *fails at names* [Other images: On the mousepad] ~ $30 On Hold for Shannon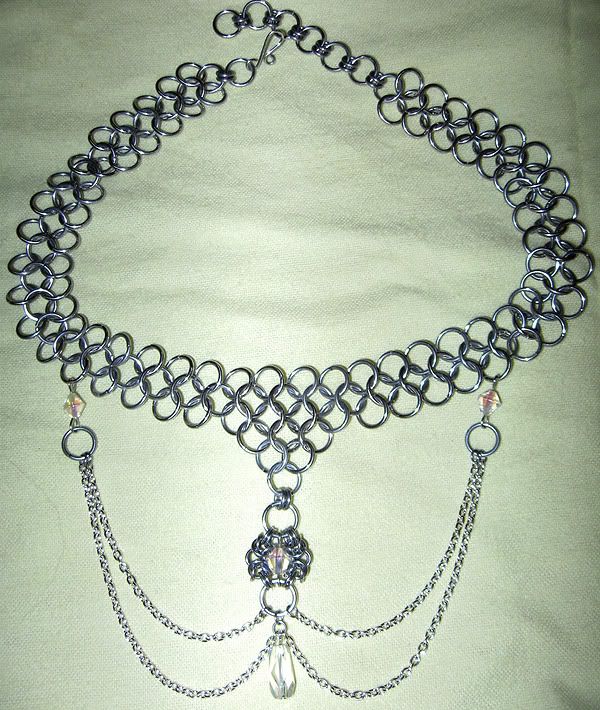 A drape of silver plate chain, aluminum rings, and rainbow clear glass beads [Other images: On the mousepad] ~ $30 Sold!




Made with titanium rings and small chain is stainless! [Other images: On the mousepad] ~ $35




Shaggy loops with titanium rings![Other images: On the mousepad] ~ $20

Earrings

Note: Earring hooks hypoallergenic-ness are questionable. But I can swap in sterling hooks for an additional $4. (In future I will have a cheaper alternative if all goes well, and the Ring Lord still has hypoallergenic surgical stainless steel.)




Beaded rings earrings ~ $6




Jen's Pind earrings ~ $6 Sold!




Mini byzantine Earrings ~ $6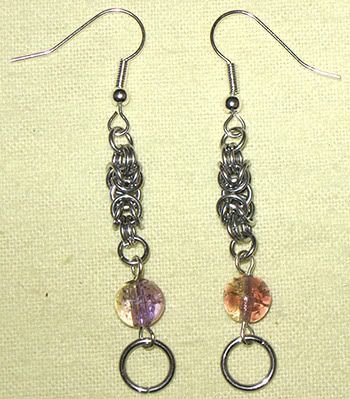 Chunkier byzantine earrings ~ $6




Stud earrings black nickel plating for rings and peircing [Other images: With matching bracelet] ~ $6




Japanese weave earrings ~ $6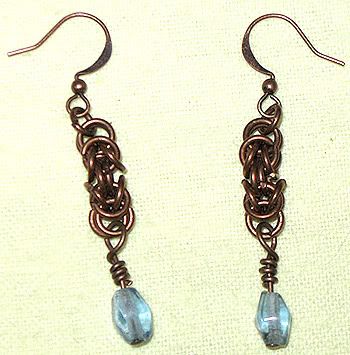 Copper byzantine earrings ~ $6




Cluster drop earrings ~ $6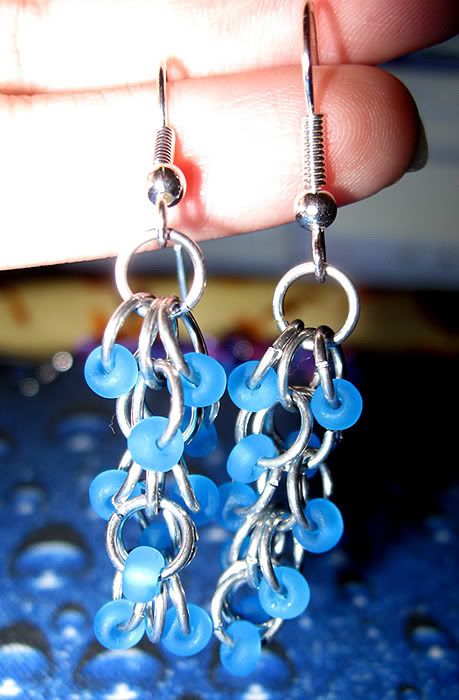 Blue Bead Shaggy Earrings ~ $6




Some very colourful Shaggy loop earrings ~ $6.50 Sold!

Misc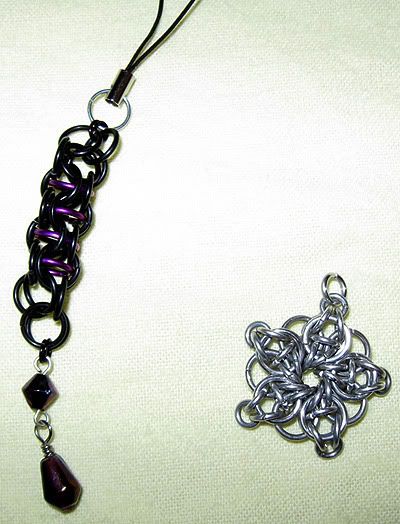 A cellphone charm ~ $6 Sold!
Star pendant! ~ $4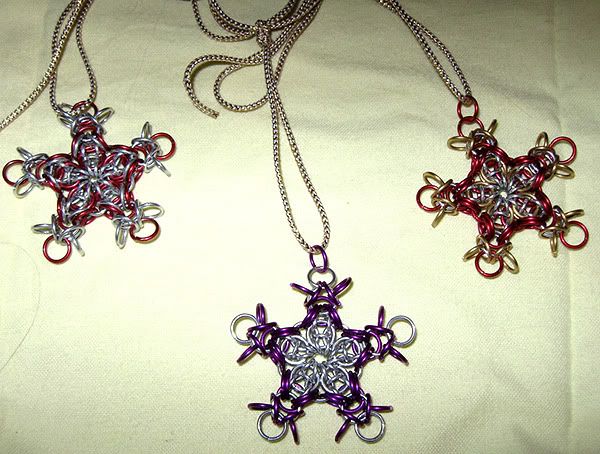 Christmas Ornaments! or... whatever you want! ~ $5 each
More older pieces can be found
here at the bottom
. While a lot of mine are one-offs, it's possible to at least recreate some older pieces to some extent. (Depending on my materials and beads... currently I'm completely out of my normal bright aluminum rings.)
Artwork
Bookmarks and magnets! Bookmarks are $2.50 each and magnets are $1 each. (Note: Also still have fallen Flonne, just not pictured (see past sale post) and Carbuncle isn't laminated there, but will be.)
Many of the things on my
DeviantArt
I have prints of. My prints are $8 and printed on high quality matte photo paper with photo ink.